Jess and i drove our overly packed car to vegas, here are some things i saw on the way, there wasn't much to see except the desert.
a ridiculously large car, we stopped off at a petrol station and i stood next to one, the tire was the same height as me
a prisoners bus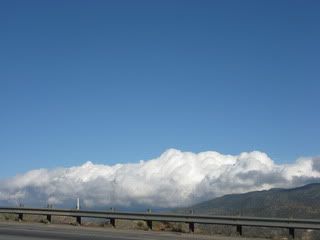 some crazy clouds amongst the rocks
dusk
the evening
found an old polaroid of me in jess's car, i that i gave to jess the day she left australia, i'm not throwing bones, it's a love heart, it's so powerful that it shines!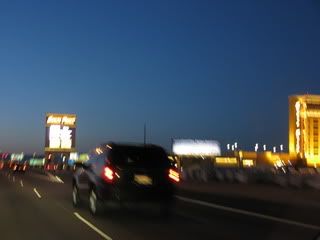 vegas welcomed me.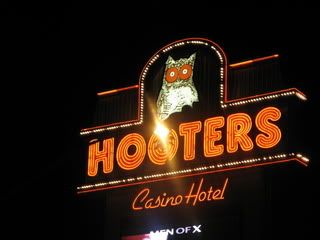 a hooters casino. killin it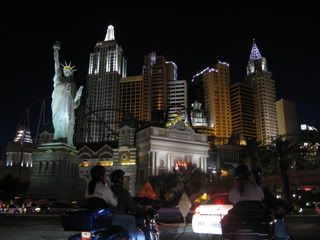 lil new york, well actually this casino is probably the size of midtown of the real new york, maybe times square...it's fuckin huge!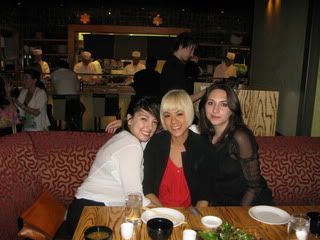 i finally met vanessa, she flew to vegas to drive to colorado with jess, so she wouldn't fall asleep or be lonely, whilst i flew from vegas to new york.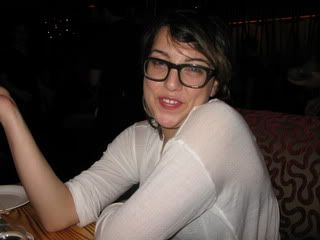 i only got to hang out with vanessa for about 4 hours, she is really cool.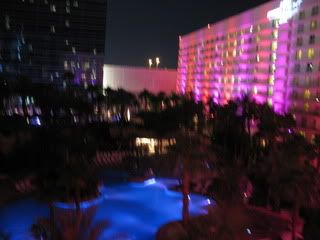 view from our hotel room, i stayed at the hardrock cafe casino hotel. it was pretty funny.... killin it
so i only stayed in vegas for 8 hours, we got into our hotel at about 9pm, we went out to dinner at nobu, I then wanted to gamble, jess was exhausted from driving, and vanessa was pretty tired to, so i chose a roulette table and took $60 with me, i lost it pretty much within 10 mins of being there, i have this minor addiction to gambling, it's the asian coming out of me. I got more cash then sat back down at that table. Both Jess and Vanessa ended up calling it a night, yet i was still determined to win thousands of dollars to replenish what i had spent in fuckin LA.
My flight was at 7am, had to be at the airport by 5am. I sat at this table till 4.30am, the waitress kept on bringing me drinks after drinks. yes i got drunk. However i didn't lose any money i walked away with i sat down with the second time.
After gambling for 4.5 hours straight i thought I'd have a little lie down.
Got to REST for half an hour, then got in a cab and went to the airport. i was so drunk i'm surprised they let me on the plane ha.
Finally got on the plane and crashed out, however my plane had a stop over in butt fuck nowhere Atlana! seriously this place is wierd... ah CULTURE SHOCK! There weren't many white people around, and if they were white they were hicks. i had 4 hours to kill in this airport, was fuckin exhausted and had two large bags to lug around with me. i decided to go to my departure gate and setup camp. i crashed out on top of my bags for 3 hours, every time i woke up to see what time it was there were masses of people sitting around me staring at me.
Anyway when i woke up an hour before my flight i thought i should eat, before i start vomiting up bile. there was nothing healthy around, it was fast food joints, so considering i was in Atlanta and was surrounded by black people, i decided to go with Popeye's chicken! deep fried chicken fuck yeah.
It was actually quite terrible, i couldn't finish it.
When i finally got on the plane, it was the worst experience of my life, i think i was being punished for something seriously. The person i was sitting next to was this huge fat lady, she was so big that the arm rest was already up! she didn't fit in her god damn single seat. iwas not guna tolerate this, i was in no mood to do so. so i slammed the arm rest down.
As people piled on this cheap aircraft, i nearly puked. i was so unfortuante, literally i was surrounded by mothers with their infants! yes thats right fucking babies to the left, to the right, in front and behind, two seats behind that, on the other side of the isle find a spot on the plane and a fuckin baby was there!
And yes on cue as the plane started to take off, baby #1 started crying, then it triggered another baby off, then the next.
Not only was there screaming babies everywehre, the fat lady next to me started to shake her leg, like when you're bored or nervous, well she was so big that when she started to shake her leg her humongous tits that were popping out of her low cut top started jiggling! dude i was trapped.....oh did i mention that this was the WOSRT flight of my life!!!!! fuuuuuuuccck!
I finally made it to new york. i got a car and went straight to lizzies, well what i thought was here apartment, i got her address mixed up and was waiting on a stoop on 9th st b/w 1st and 2nd ave, it was meant to be 12th.
this is all my shit waiting on someone elses stoop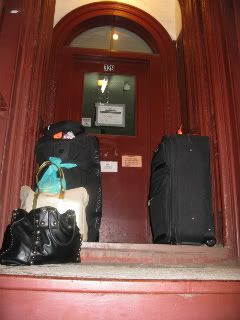 Two ladies who lives in this apartment block came up and started yelling at me, telling that all my crap is not aloud on their stoop, and asking me what i was doing. typical new yorkers!
oh did i mention that this was the WORST day.
finally lizzie came and got me and we walked all my crap back to her place.
Got into her apartment and had a shower, cause i hadn't done so fore 2 days. she then tells me that her boyfriend has organized to go out to diner with his friends, and that they are already waiting downstairs in a car.
She then proceeds to tell me that his friends are kinda a big deal, i start freaking. i've had no sleep and wasn't even ready.
It turns out that we went to dinner with Jake Gyllenhaal and Reese Witherspoon.
Did i mention that this was the WORST day ever.
Diner was actually pretty cool, Jake and Reese are also cool, sorry no photos, didn't want to be a douche, however everyone starred at us when we walked in, and people were pretending to take photos of their friends, when in fact it was of the celebs, i've been guilty for that ha.....
Anyway WELCOME to NEW YORK!